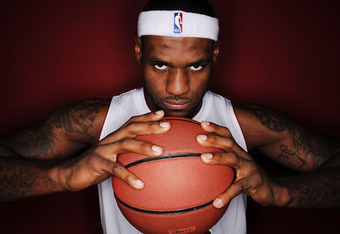 Did LeBron's move to South Beach doom his legacy?
Marc Serota/Getty Images
With the start of the NBA 2010-11 season fast approaching, 29 of 30 teams will start the preparations of attempting to dethrone the Los Angeles Lakers. Although the movement of players was the highlight of the summer, no player captured the public eye, both good and bad, than the King himself: LeBron James.
Superstar athletes have very unique abilities that set them apart from their fellow players. The ability to dominate any one game at a moment's notice. The ability to carry the team on his/her back when called upon to do so. The ability to support his teammates in every way, and to make them better all-around players. James lacks the most needed characteristic: the last one.
Several weeks ago, former NBA Chicago Bulls player Scottie Pippen was inducted into the Naismith Memorial Basketball Hall of Fame in Springfield, Mass. Pippen chose none other than his teammate, Michael Jordan, to introduce him and present him during his induction.
Pippen said, "Michael is someone I shared my career with, accomplishing most of what I have accomplished thus far. He was a great teammate, teacher, and admirer." He went on to say, "MJ, you have touched so many people's lives, but none quite like mine."
That is the true measure of a superstar. Without Jordan, Pippen doesn't wear six championship rings, and certainly doesn't merit Hall of Fame status. Bill Russell was another classic example, raising the games of greats like K.C. Jones, Sam Jones, and Tom Heinsohn.
When James made "The Decision" to take his talents to South Beach and the Miami Heat, he all but said he needed help in order to win an NBA championship.
His decision was all but derided by his peers and former players, even Jordan himself going so far as to say, "There's no way, with hindsight, I would've ever called up Larry, called up Magic and said, 'Hey, look, let's get together and play on one team.' In all honesty, I was trying to beat those guys."
LeBron had a golden opportunity to prove his worth as a true basketball superstar. If he had chosen to stay in Cleveland, the team that drafted him in 2003, he could have gone on to do exactly what Jordan himself did: Find ways to beat other teams and stay on top. That would have cemented LeBron's legacy, and he truly would have earned his "King James" moniker.
Instead, he chose the easy way out. By choosing to play with the Miami Heat, he showed the world that he is unable to reproduce the actions of both Jordan and Russell.
Jordan won six championships in eight seasons, Russell 10 in 13 seasons. LeBron may win rings, but he'll do it on Dwyane Wade's team. Wade is the clear leader of the Heat, having won a championship himself in 2006 with the Heat.
Had LeBron made the decision to stay in Cleveland, then history would tell whether or not he had the chops to indeed make his supporting cast better. Now, he's relegated to just another option.
Follow Doug on Twitter, @Sports_A_Holic.
UPDATE: http://bleacherreport.com/articles/476540-nba-superstars-lebron-james-has-a-long-way-to-go-to-supplant-micheal-jordan September 28, 2010